Kowhai Grove Ostrich
As a diversification from sheep and beef farming we bought our first pair of breeding birds in 1993. We now have 40 breeders on our farm in the Manawatu, New Zealand, which produce about 300 chicks per year. The birds live outdoors from 2 months of age, grazing on pasture and supplemented with grain. Farm tours available on request.
For Sale
Premium, low fat, tasty ostrich meat - processed and vacuum packed in licensed facilities
Live birds (from 2 months of age, approximately $100-$400 each) 
Skins and feathers
Blown eggs ($5-$15 each, depending on quality)
p.
06 3288 618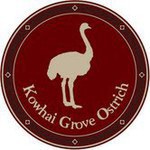 m. 027 448 0022